Welcome to Kinney Lisovicz Reilly & Wolff PC.

---
Excellent lawyers. Exceptional results.
---
We are a law firm committed to our clients' success. Experience, drive, creativity, and integrity are the traits that we bring to every matter we handle. We represent clients in federal and state courts in a wide variety of matters, including insurance coverage, civil litigation, premises liability, product liability, construction defect, food-borne illness, toxic exposure, breach of contract, professional liability, employment litigation, auto and trucking, criminal defense, and appeals.
---
Our cost-effective approach focuses on each client's individual needs. We are dedicated to providing every client with timely and thoughtful communication on matters we are entrusted, and are proud of the professionalism and collegiality that we bring to the attorney-client relationship. We know that to achieve the best results for our clients absolute attention must be paid to every detail, from start to finish. We leave no stone unturned.
---

Experience
KLRW's lawyers have a remarkable record of achieving exceptional results with an uncommon cost-effective approach for the businesses and individuals we represent. We know that our clients trust and appreciate attorneys who truly understand their problems, and we strive to build successful and lasting relationships with them.

Drive
We are dedicated to delivering a superior level of legal services with personal attention to our clients' individual needs and concerns. We balance zealous advocacy with sound judgment in protection of our clients' best interests.

Creativity
In the ever-changing and increasingly-complex legal world, imagination, adaptability, and creativity are necessary to succeed. The simple solution is not always the answer. Our lawyers go beyond the routine, seeking new and inventive ways to solve our clients' problems. We make a difference.

Integrity
Each lawyer at KLRW is committed to the practice of law with utmost professionalism and integrity. We pride ourselves on our collective vision of handling each client's matter the right way. We are forthright with our clients, providing them with timely reporting and prompt and thoughtful responses to their questions. We know that communication is the heart and soul of the relationship with our clients.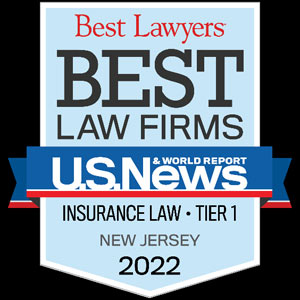 ---
KLRW has been named as a New Jersey Tier 1 law firm in New Jersey for Insurance Law by U.S. News – Best Lawyers® "Best Law Firms" in 2022. (This list is issued by U.S. News – Best Lawyers®. A description of the methodology used for inclusion can be found here. No aspect of this advertisement has been approved by the Supreme Court of New Jersey.)
---