Appellate litigation is often an essential part of ultimate legal success. Winning an appeal requires skillful briefing and forceful advocacy combined with expert research and a thorough understanding of both the law and the facts of the case.
KLRW's attorneys have successfully handled a wide variety of appeals, ranging from insurance-coverage actions to medical malpractice, bodily-injury, and product-liability actions, to commercial litigation. Our attorneys understand that the best briefs present the record and the law in a manner that is not only technically persuasive but also engages the appellate court's desire to ensure that justice is done. We know that the best oral advocacy directly responds to questioning from the appellate panel while focusing the court on the client's goals. Clients therefore entrust KLRW with appeals arising out of cases that KLRW has tried as well as cases tried by other firms.
Civil litigation is what we do at KLRW. Our lawyers have tried numerous cases to verdict in a wide variety of matters. Preparing a case to present to a judge, jury, or an arbitration panel requires skill and zealous advocacy, combined with a thorough knowledge of both the facts of the case and the governing law.
KLRW's attorneys have extensive local, regional, and national civil litigation experience. We represent individuals and corporations in federal and state courts throughout the Northeast and have litigated thousands of lawsuits and tried scores of cases to verdict. We handle an extensive variety of actions, such as breach of contract, insurance coverage, bad faith, premises liability, product liability, food-borne illness, construction defect, pharmaceutical, professional malpractice, auto and trucking, toxic exposure, and workplace accidents. KLRW's attorneys seek a successful resolution during all phases of a suit, and are skilled in litigating risk-transfer mechanisms, such as additional insured coverage and contractual indemnification.
Construction litigation requires technical expertise coupled with a detail-oriented approach.
KLRW's attorneys represent developers, general contractors, subcontractors, engineers, architects, condominium associations, professionals, and homeowners in construction defect cases involving a wide variety of structures, ranging from single family homes to multi-story high rises and public buildings. KLRW efficiently analyzes the voluminous documents often produced in this type of litigation and has the experience to evaluate complex expert reports, enabling KLRW to provide exceptional results at reasonable costs. In addition, because of our extensive coverage and defense experience, KLRW attorneys are skilled in looking for and evaluating risk-transfer mechanisms, such as additional-insured coverage and contractual indemnification.
Criminal Defense Litigation
KLRW offers a strong and experienced criminal defense team, which includes a former Assistant County Prosecutor. We aggressively defend our clients' rights. Our attorneys represent individuals and business entities facing criminal or quasi-criminal charges in federal, state, and municipal courts and have extensive experience in handling a wide variety of criminal charges including white collar, vehicular homicide, DUI, domestic violence, drug offenses, fraud, theft, and computer crimes.
KLRW's attorneys represent a broad spectrum of organizations in employment litigation. When an employment dispute arises, we work with our clients to achieve a strategy aimed at resolving the dispute quickly and efficiently, often before the onset of litigation. However, we recognize that in some circumstances, there are matters that are especially difficult to resolve and must be aggressively and effectively defended. In those situations, our attorneys have a proven track record of achieving success in employment litigation in both state and federal courts as well as before arbitration panels.
Insurance and Reinsurance
KLRW's attorneys have extensive insurance and reinsurance experience. Whether serving as regional or local counsel, we represent insurers and reinsurers in federal and state courts throughout the United States and in arbitrations, and have litigated hundreds of insurance-coverage claims involving a wide range of issues. We counsel clients daily on claims, underwriting, and coverage issues, as well as on regulatory matters. We pride ourselves on providing efficient and cost-effective representation and on providing our clients with innovative strategies to respond to claims. We have extensive experience with numerous types of coverage claims and actions involving bad faith; bodily injury; property damage; construction defect; employment practices liability; homeowners; molestation; personal and advertising injury; environmental liability; cyber liability; long-tail coverage; personal and commercial automobile; errors and omissions; directors and officers; professional liability, including architectural, engineering, and accounting malpractice; product liability; toxic-tort issues, and workers' compensation coverage.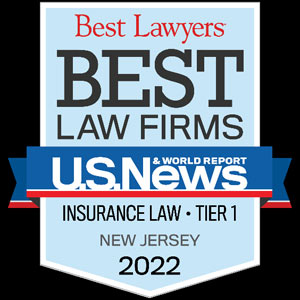 KLRW has been named as a New Jersey Tier 1 law firm in New Jersey for Insurance Law by U.S. News – Best Lawyers® "Best Law Firms" in 2022. (This list is issued by U.S. News – Best Lawyers®. A description of the methodology used for inclusion can be found here. No aspect of this advertisement has been approved by the Supreme Court of New Jersey.)
---
KLRW's attorneys have represented a variety of manufacturers, distributors, and product sellers in federal and state courts throughout the Northeast. Our attorneys are skilled litigators who have tried numerous product-liability cases to verdict. Whether the claim alleges a design or manufacturing defect or a failure to warn, KLRW's attorneys offer an aggressive defense while balancing the business needs of our clients.
KLRW's attorneys have represented a variety of professionals in courts throughout the Northeast. Our attorneys are skilled in representing attorneys, accountants, architects, engineers, construction managers and supervisors, insurance producers, land surveyors, medical practitioners and surgery centers, and real-estate brokers in matters in which licensed professionals are alleged to have engaged in professional negligence. We have a thorough understanding of the complex procedural and substantive law and also understand the implications for professionals when being sued for professional liability. We provide an aggressive defense to preserve our clients' reputations while minimizing the disruption to our clients' respective practices.